Will Swearingen's Insights on Strategic Planning for the AEC Industry
Chaz Ross-Munro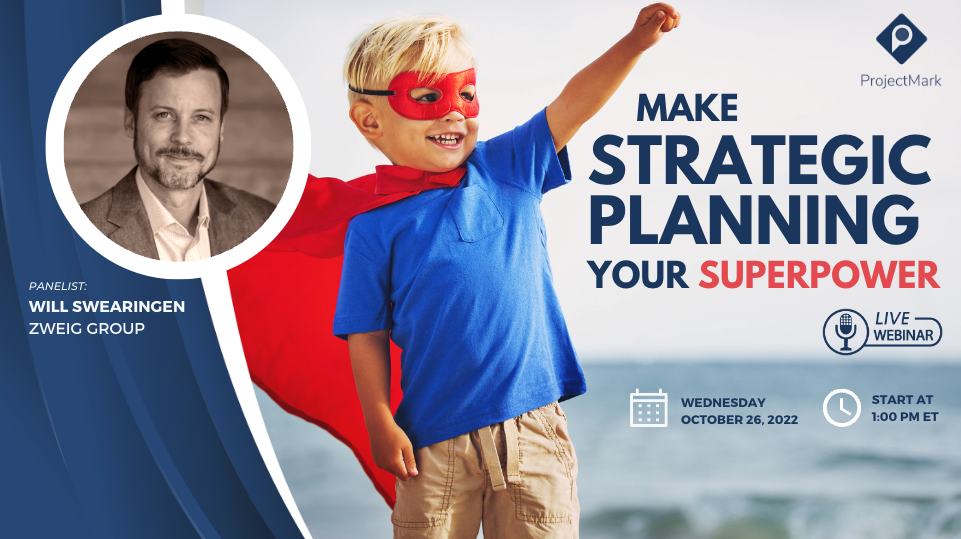 In preparation for our upcoming webinar, "Making Strategic Planning Your Superpower," we interviewed Will Swearingen with Zweig Group to understand what he thinks AEC firms need to know when working on their strategic plans and strategic planning process.
About Will Swearingen
Will's journey into the AEC industry started early. Growing up in a family full of architects, he decided to go a different path initially and took his first job in the oil industry. After a few years riding dive support and exploration boats, Will decided to pursue his MBA at the University of Arkansas, and while there, he took his turn back toward AEC after meeting the founder of the Zweig Group.

After earning his MBA, joined the Zweig Group. Now, Will is a Principal and Director of Ownership Transition. He works closely with management teams of AEC firms across the US to analyze and develop ownership transition plans, ranging from simple transactions to complex projects that require a great deal of modeling, stakeholder education, and strategic thought. He analyzes and reports on the data AEC managers need to run successful firms. By developing benchmarking tools and compensation programs for transition planning, Will empowers leaders to be change agents in order to carry out their strategic initiatives.
What are the biggest misunderstandings around strategic planning?
"Instead of misunderstandings, I think it may be more of a 'fatigue' around strategic plans. In a lot of firms, strategic plans are not executed or communicated well," says Will, "Getting people enthusiastic about the effort is really important to the success of a strategic plan. It's more than just developing the mission, vision and core values of the firm, it's gaining real alignment at key levels of the organization."
From Will's perspective, alignment seems to be lacking in many AEC firms, "Gaining alignment around a series of objectives. However, you do that, how you create that, that's what the planning process is about. What metrics you need to understand. How you can impact those with a series of decisions or investments. Focusing on sustainable business growth (whatever that means to you) has to be a pillar of the plan. Having a great place to work is critical. By understanding the purpose and objectives of the firm, philosophically we have to gain alignment around those and build the plan from there."
How is Strategic Planning Integral to Mergers and Acquisitions?
"Most of the work I focus on has some ownership transition component to it. As fragmented as the AEC industry is (with thousands of companies and a ton of small ownership groups), getting these firms to think through what they're trying to do with their businesses is always interesting. Whether it's a buy-side or sell-side program, using the strategic planning process to help define the mandate can be so helpful in generating success. I love uncovering what that vision looks like for them. What are their goals and how do we get them dialed around the same effort so they can accomplish these lofty goals within their firms."
What are most AEC firms struggling with and how can strategic planning help?
"Many firms are struggling with talent. They need people, more specifically these firms need experienced people with 8-12 years of experience and it's a real challenge to find them. Through the strategic planning process, your firm can find out what your firm offers (and doesn't!), so you can attract that 'unicorn' person. You can uncover what changes need to take place at the firm's leadership level, so you can accommodate the growth expectations of these key individuals."
Another challenge facing engineering firms is the percentage of engineers that are retiring, and the resulting loss of knowledge transfer that occurs, "300,000 senior level engineers are turning 70 in the next 10-15 years. That's a ton of talent, connections, and know-how that is leaving the industry. Developing mentorship programs to facilitate that transfer is a common challenge we run across."
With talent being a focus for many firms, a shift to thinking about how to attract talent through culture has become a popular discussion topic for Zweig Group and for Will, "The old guard has a way of not wanting to change. Recently, as part of my research for a consulting project, I was conducting internal interviews for a 500-person firm on the east coast looking for ways to improve their culture. One engineer stood out in particular, she was 38 and said that she would have kids and a family if she could have worked remotely. She almost broke into tears as we discussed remote work policies that would be effective for the firm." It seems that flexibility is no longer a perk, but an absolute necessity to attract key talent. Senior leadership is starting to take notice.
In addition, despite growing economic concerns, the AEC industry has no immediate signs of slowing down, "We continue to see a strong backlog across public and private sectors," says Will, "Firms focused on commercial and residential sectors have their antennas up due to interest rates and the impending impacts of inflation. However, we're not seeing signs of slowing down in the data yet. Everyone still seems to be riding on a high, however, they know the shoe is likely going to drop."
How Are Private Equity Firms Impacting the AEC Industry?
"We're definitely seeing private equity firms continue to roll into the space. Many are allowing their investments to keeping their brand presence. Some are keeping traditional platform and tuck-in model, but we're seeing a range of programs being presented. All private equity is not equal – or evil!" Will says, "these PE-backed firms may have more resources than you do to attract talent and build their brand presence in a market. Most of the private equity firms we are talking to are attracted to investing in firms that focus on critical infrastructure projects (water, transportation, energy, education) as these are demonstrating stability and an avenue for solid returns. In the next 24 months, you're going to see more cautious behavior across the AEC industry, but PE back firms may be more aggressive as we see the market flip from a seller's market to a buyer's market. Leadership and ownership transitions are numerous right now and show no signs of slowing down due to the demographics of the industry. Outside investments produce capital for technology investments or additional capital for significant adjustments in compensation and retention strategies."
Final Thoughts
Although there is uncertainty in the market, AEC leaders can still build a strong plan to weather talent shortages and tough economic factors like inflation. A strong strategic plan starts with asking good questions, conducting research, and having strong alignment on key objectives. If you're interested in learning more about strategic planning and the strategic planning process, make sure you attend our webinar with Will Swearingen on October 26th at 1:00 PM ET. Register here.