Sarah Kinard's Insights on Strategic Planning for the AEC Industry
Chaz Ross-Munro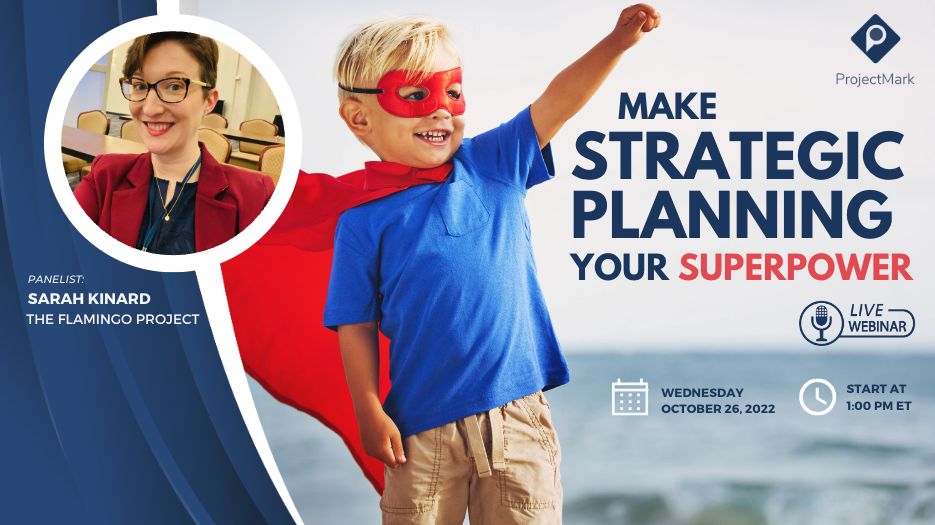 In preparation for our upcoming webinar, "Making Strategic Planning Your Superpower," we interviewed Sarah Kinard with The Flamingo Project to understand what he thinks AEC firms need to know when working on their strategic plans and strategic planning process.
About Sarah Kinard
Sarah is a marketer who found herself at an architecture firm over 20 years ago learning the craft of architecture and the politics of development. Who knew this first professional job would ignite a passion for placemaking and the impact planning and design make in our communities?
Flash forward a couple of years, and Sarah was invited to join an architectural firm with a 60-year reputation in public K-12 work to begin a regional higher education practice. What a thrill and adventure it was to build something that required research, remessaging, repositioning, and pursuit strategy for a 60-year-old firm! Sarah was successful and took that model "on the road" to all the firm's offices across the US. 7 in total. By the end, Sarah was an Associate, over all the firm's marketing, service growth, M&A research, and strategy – frankly anything that had growth written on it.
From a National Education focus, Sarah went global with an Interior Architecture firm focused on luxury hospitality. The firm had offices in Singapore, Shanghai, Los Angeles, Dallas, New York, Dubai, and Paris. After research and understanding that the luxury hospitality market was changing drastically, they wanted to diversify and launch sub-brands to tackle various markets across the globe. The travel was intense, and the time zones were exhausting, but going global is eye-opening and exciting in all the right ways.
Where do you go from there? Well, Sarah really wanted to help AEC firms do what she loves, GROW. Whether that is through Research, Marketing, or BD strategies…it doesn't matter, they all need the right information at the right time. So from there, The Flamingo Project was born.
Regardless, having an experienced AEC Strategist who understands the nuances of how firms win work and the information required to make decisions about new markets, services and geographies is essential to seeing your vision realized.
What are the biggest misunderstandings around strategic planning?
"It feels like one of those activities firms haven't done well over time or involved various levels of the organization. Because of that, a generation of people, typically in leadership now, haven't been exposed to it all and strive to model leadership to the next generations without any practical experience. What they have been exposed to wasn't good. So of course, they have questions,
'Why am I spending my time doing this? Are we just going to a resort and team building? How will this build the next 3-5 years.'
'I've seen strategic planning workshops happen in the past but what came out of it? There weren't actions that made the plan live beyond the retreat. Our teams need to get their teeth into the strategic plans with tactics and results they can see.'
"On the positive side, they're excited and they're willing. They are future casting and looking at the next evolution of the firm, but not saying how we are going to do THAT and how we are going to be THAT. Firms who don't spend time doing due diligence to understand internally and externally where they are. That's the biggest roadblock to their future."
Why do you think people avoid doing

strategic planning?
"Those that avoid it, it's the same reason they avoid financial plans for themselves: it's limiting or it feels like something they don't know how to execute. These plans are for focus, not limitation. It's freeing to say 'These are the 3 most important things for our firm to be its best' and innovate within those parameters. As for execution, as a marketing manager earlier in my career, I was invited to participate in strategic planning because my firm realized that marketers were great at building consensus and moving initiatives forward.   The main reason strategic planning and strategic plans don't work for some firms is that these same firms have never asked if we have the right people in the right places to help execute the plan. Instead, those who sit in leadership positions lead the efforts. They frequently don't have the skillset or time to do it well."
What opportunities do you see in strategic planning?
"There is a new generation of leadership (Xenials) that are breaking the mold. So much of their lives, they've had access to information via the internet so, they're able to make more data-driven decisions. There are more leadership books for different styles. I'm very excited about the next generation of leadership because they have been the bridge builders between the Boomer and Millenial generations for the last 10 years. They can code-switch and understand the perspectives of both generations. Additionally, they have vision, they're looking for information, and have reality in check due to multiple financial crises and downturns in their careers. These new leaders care deeply about their company, have seen technology change, and have a great opportunity to create plans that are realistic and can be executed."
What are most firms struggling with?
"Leadership or ownership still involved in projects are in the weeds of the work, 'How do we get work done and keep our employees happy.' Many firms are asking, 'why should we do this strategic plan right now?' Many firms are struggling with capacity and labor shortages and don't have the capacity to take on new objectives. Conversely, I have another client that I work with who says, 'we have to lift the gaze otherwise we're not going to see how to solve that problem.'" 
"There is still some hesitation around strategic planning as it used to be a 10–12-year planning exercise. But now, I'm seeing that firms want a good three-to-five-year vision, and one-year plans to get there. Pre/post covid we've been moving so much faster as a culture. The how we do things is evolving rapidly. Despite many areas of our business speeding up, we still face market sector challenges in the public realm when a government project takes 10 years to come to fruition."
How does strategic planning align with the current emphasis on creating cultures that attract talent?
"It's everything. It's your plan as a business to live out who you are and what you say you want to be. Your plan could be entirely inwardly focused. Looking for more efficient ways to do things (regarding labor and money) or adopting new systems. It could be focused on how you recruit and how you engage in the industry to build talent. Maybe your dollars and cents are poured into shadowing and intern programs? I think a strategic plan is you living out who you say you are and who you want to be in the industry and your community."
Final Thoughts
"Get out of your own way. It doesn't have to be a 5-year or a 10-year plan (and it shouldn't be!). What are the biggest problems and opportunities you must solve for? Where do you want to be and plan for it! Limit the initiatives to what you can execute. If you give yourself 5 years' worth of initiatives to get done in 3 years, you are not modeling good leadership to the rest of the firm. Don't over-matrix it and over-plan. For example, many firms have a six-month planning process for their ANNUAL business plans. That only gives you six months to execute a ONE-YEAR plan. You're not going to move the needle. Plans need to have thought behind the goals, but they need to be aligned with the effort it takes and the time expected to deliver."
"Whether it's someone in your firm or outside your firm, having a resource your leadership can talk to and can help them break down their big ideas is helpful. We need to remember to 'lift our gaze,' in the midst of the busyness to make sure we're pouring our energy into what's most relevant. If we had been doing that as an industry 10 years ago, we wouldn't be in the labor crisis that we are today. As a nation, understanding how we devalued trade education, we wouldn't be in the same crisis as labor for trades. We get so stuck in the lane, that we forget to look up."
Don't get stuck on your strategic plan. If you're interested in learning more about strategic planning and the strategic planning process, make sure you attend our webinar with Sarah Kinard on October 26th at 1:00 PM ET. Register here.