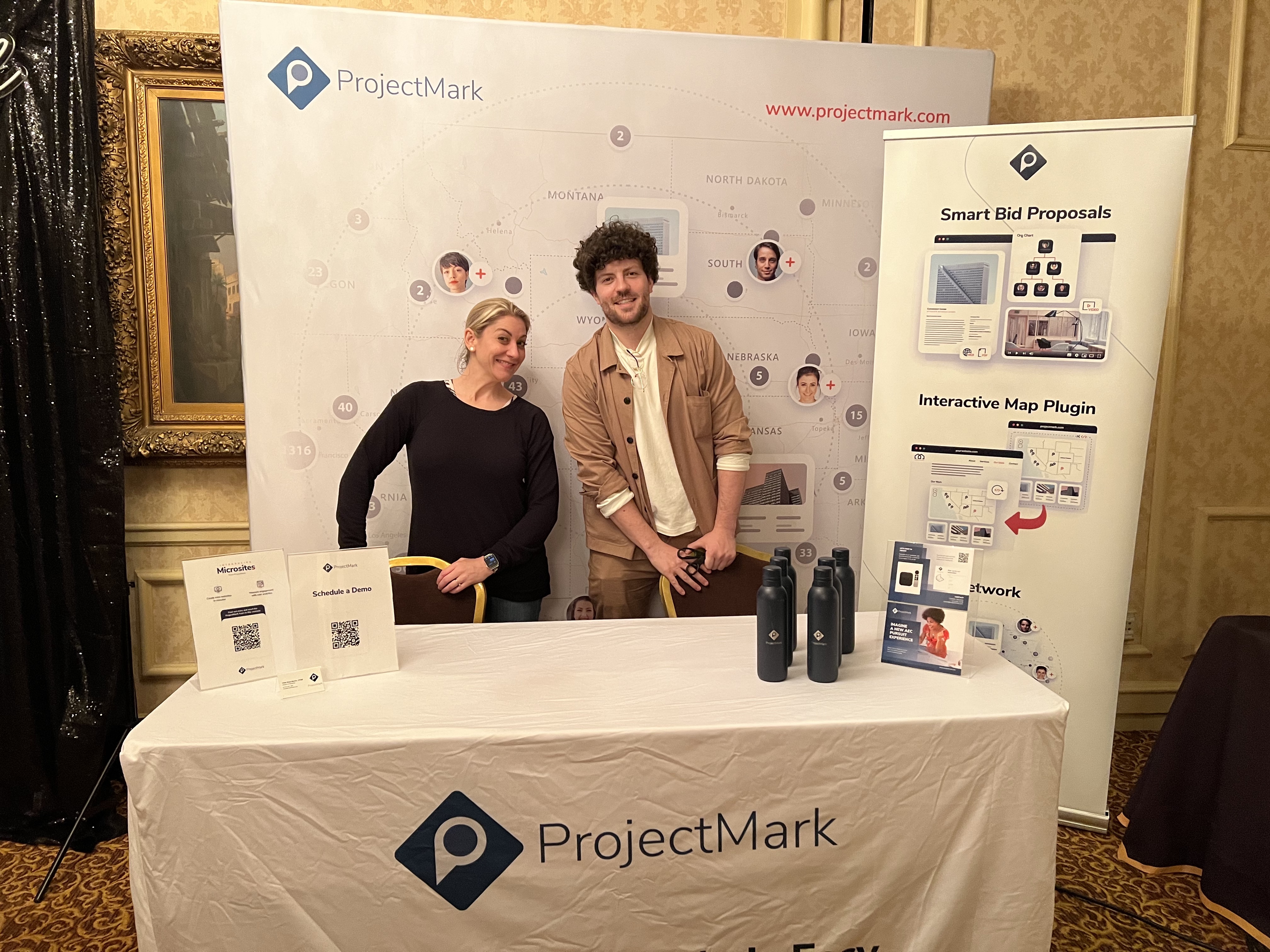 The SMPS Heartland Conference "Dialed It Up" last week at the iconic Pfister Hotel in Milwaukee, Wisconsin. We loved meeting marketers and business developers from SMPS Chicago, SMPS Columbus, SMPS Greater Cincinnati, SMPS Indiana, SMPS Kentucky, SMPS West Michigan, SMPS Southeast Michigan, and SMPS Northeast Ohio Chapters and appreciated all of you who stopped by the booth. Thank you to the Co-Chairs Justin Juley, CPSM, and Patti Keillor Rohde for your event leadership and your team, including John Ferguson and Kim D'Amato. We attended some great sessions (and we're also bummed about some of the ones we missed) but would like to share a little of what we learned.
Thoughtfully Fit: Take Charge of What Comes Next - Darcy Luoma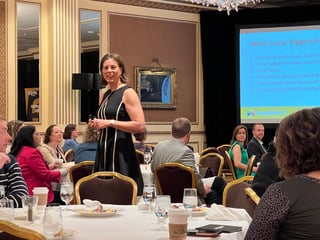 Darcy Louma (Darcy Louma Coaching & Consulting) kicked off the conference with her presentation. Attendees walked away with an understanding of the six common hurdles that get in the way of high performance: (1) Reacting poorly when blindsided; (2) Relationships that don't work; (3) Feeling stuck; (4) Wishing others were different; (5) Too much to do; and (6) Not handling ourselves the way we'd like. She then walked us through the framework she uses during coaching which includes three steps: (1) Pause, (2) Think, and (3) Act. Using these three steps can help eliminate the hurdles which block us from achieving the results we want.
Level Up Your Digital Analytics and Connect the ROI Dots with Data Storytelling - Tim Asimos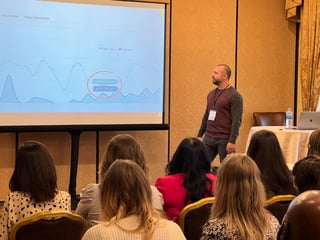 Tim Asimov (circle S studio) reminded us that only 5% of us can remember stats and 63% of us can remember a story. Tim highlighted five steps to turn our data into stories. These included: (1) Uncovering the insights; (2) Highlight what matters most, "If you emphasize everything, you emphasize nothing;" (3) Narrate with words; (4) Supporting with visuals; and (5) Turn insights into action. And always, know your audience. Be able to predict what questions they'll throw at you about the data you present (great advice).
3 Steps to Make Diversity a Differentiator in Meetings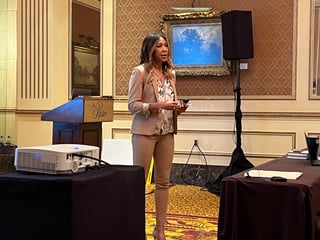 Beth Ridley (Ridley Consulting Group) built on some of the concepts discussed during her lunch keynote in this highly interactive and fun session. Although some may be skeptical of ice-breakers, Beth proved in our session that finding a common ground is key to a more engaging and interactive meeting as the participation within the group was phenomenal. Beth outlined three steps to make diversity a differentiation in meetings: (1) Clarify the purpose and align on desired outcomes; (2) Uncover hidden dimensions of diversity assessments; (3) Apply an equity lens to support success for everyone. She also recommended the book, The Art of Gathering by Priya Parker for some great meeting tips.
Dialing Up Your Doer Seller Culture That Sets Your Firm Apart
Donna Corlew, FSMPS, CPSM (C+Connect), and Frank Lippert, FSMPS, CPSM (Go Strategies) always deliver at conferences. This abbreviated session was packed with great insights into how to transform your doers into sellers. First, we examined firm and team organizational structures and how this impacts a firm's approach to business development and sales. We also learned how business development and relationship building is a team approach and at each level of an organization, we can start to build relationships with the client's corresponding team member (the zipper approach). We looked at all of the activities we do to win work and how these pieces fit together. We also briefly discussed CRMs and Donna summarized her philosophy as "just pick one and use it." We then talked a little more about how to make the most out of a zoom business development meeting. Frank recommended using a Powerpoint slide or shared document to capture key concerns as the client discussed them (great idea). To wrap up, we discussed their preferred process for documenting key issues for clients which included: the challenges, concepts, gains, and evidence. And last but not least, Donna and Frank talked about the importance of consistently training your team on how to become sellers.
CX Meeting CRM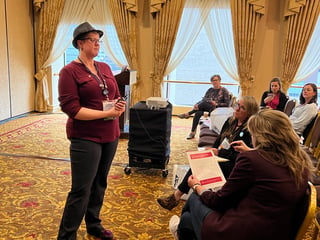 Courtney Kearney, CPSM (CKearney Consulting) and Amanda Roehl's (Pixels + Ink Studio) session demonstrated how customer experience (CX) is "vision" and how a CRM is "proof". Their presentation started with a little on strategy and how using personas can really help teams hone in on their process and how they serve specific client types. Next, we examined data roles and how each person within an organization has a specific role to ensure that client data is tracked, edited, and analyzed so that it provides the best insights for an organization. These roles are Editors, Auditors, Analysts, Consumers, Leaders, and Officers. Courtney used a clever baseball analogy to demonstrate how each of these roles was part of a winning team culture. We closed the presentation with a case study where each team looked at whether or not they had a CRM and whether or not they had their CX journey mapped. Either way, attendees walked away with a few to-do items.
A Culture Confident in Presence: Your Role in Elevating the Team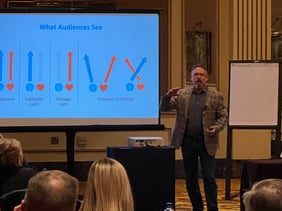 Dean Hyers (SagePresence) delivered a high-energy, interactive presentation with some great tips and tricks many of the attendees will want to put into action as soon as they get back to the office. Dean focused on seven key elements to use your role in elevating the team which include: (1) Confidence - intentional eye contact; (2) Warmth - appreciating; (3) Servent hero - focus on who you help; (4) Inspiring others - feel constructively; (5) The guardian - protect the vulnerable; (6) Brand presence - defined as human behaviors; and (7) Presence culture - internal champions throughout.
Anticipate Tomorrow: What's Next for the AEC Industries
Scott Butcher, FSMPS, CPSM (Stambaugh Ness) always delivers great content to help marketers have a better perspective on what's happening in the AEC industry. He focused on what's next in project delivery, productivity, technology, automation, artificial intelligence, demographics, globalization, urbanization, climate change, infrastructure, convergence, "mark-ruption", and regulation. A few key takeaways included that every marketer should be doing a scan of market trends annually so that he or she can keep an eye on how the market is changing. Also, marketers should be aware of changes in the residential market as these impact infrastructure, healthcare, and commercial markets (as well as others). Scott also had a great handout and if you weren't able to get one at the conference, you may want to reach out to him directly and see if he'll share one with you (his LinkedIn link is above).
Summary
The SMPS Heartland Conference had many great sessions and speakers. It seems that change within our industry, diversity, customer experience (CX), presentation skills (whether in-person or zoom) are themes that will continue to carry on beyond Heartland.