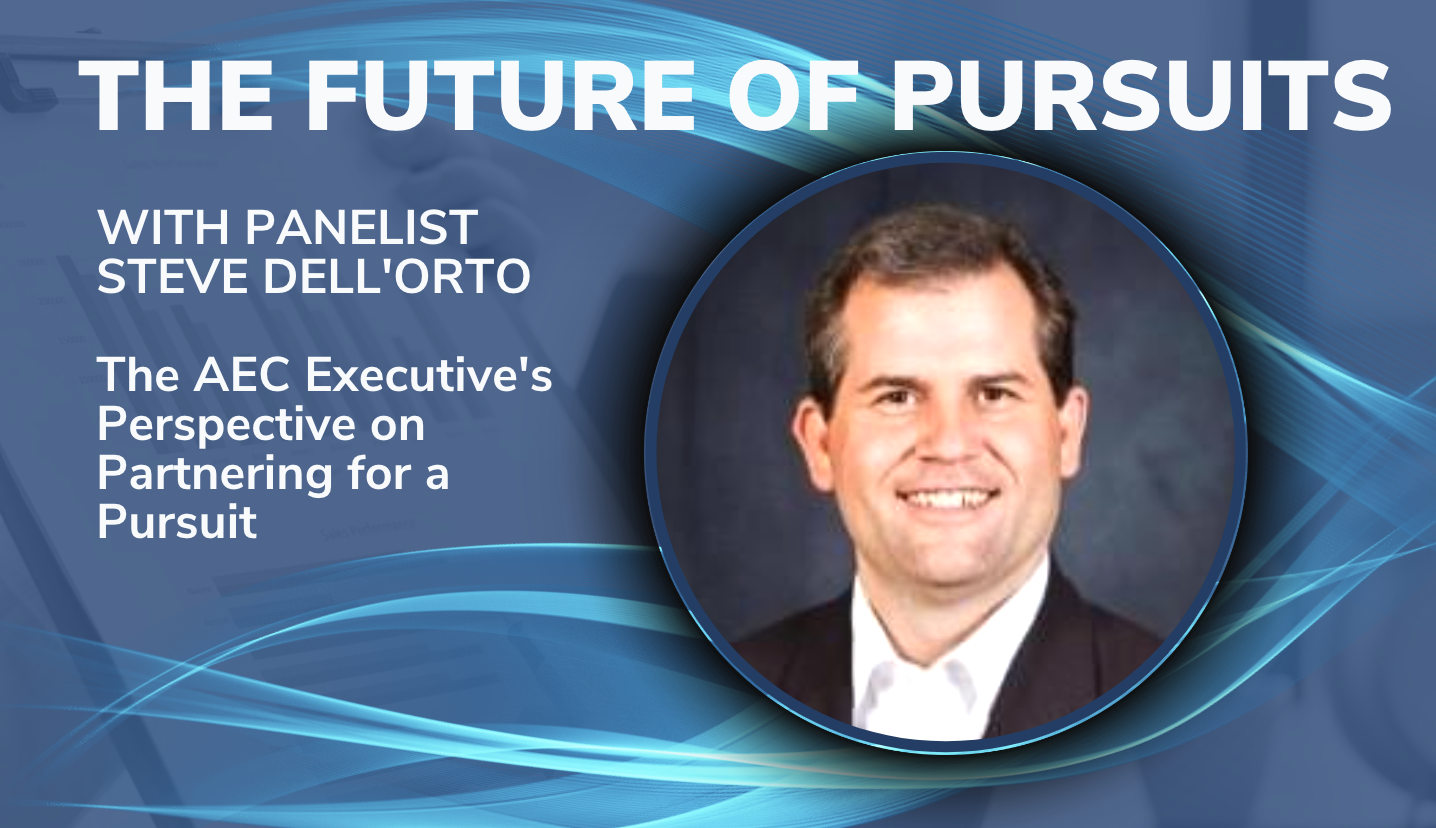 Steve Dell'Orto is a recognized construction and building industry leader with deep expertise across project planning and pre-construction phases. Often called upon as a trusted advisor for general contractors, developers, asset investors, VC funds, and PE firms, he provides strategies that amplify growth and ROI. Steve is the Founder/CEO of ConCntric a collaborative SaaS platform focused on supporting the design, estimating, and planning professionals involved in the preconstruction/development phase of the project lifecycle. He is also a Venture Partner with Builders VC which helps founders in their mission to modernize antiquated industries. Steve is bringing that same focus on founder success as an Advisory Board member to several notable emerging prop-tech startups including TraceAir Technologies, Extracker, SafeAI, Inc., QuoteToMe, TargetDocs, and Soil Connect.
Intro
We had the opportunity to speak with Steve a little more about partnering for pursuits and Steve touched on several key elements to consider when partnering: partnering early, keeping the client top of mind while partnering, finding committed partners, and finding new partners.
Partnering Early
"Early partnering and exclusive arrangements make sense if there is a contract delivery requirement or specific procurement requirement. For example, the California design-build program requires core partners to be named and listed on your team. Part of the strategy with pre-positioning or pre-selling is to know about the project early enough so you have the 'pick of the litter' in terms of the partners that you could pull onto your team. At the same time, you need to know the client and product well enough to also be able to determine which partners are going to be a good fit. Next, you need to superimpose that information against the value that the owner places on prior working history (with you and your partners). So teaming becomes this complicated Rubik's cube and the best way to solve it was to have as many options as possible. If you wait too late with your pre-positioning and a lot of the potential partners are spoken for, then your Rubik's cube just got infinitely, more complicated to solve."
Keeping the Client Top of Mind When Partnering
"Giving some thought to what owners truly value is critical when you think about teams. A team that has a prior working history together through thick and thin, and one that can cite multiple project examples that were successful is a huge de-risking element for the owner. Because in the owner's mind, they look at the four or five general contractor options in front of them and know at the end of the day, the job will get built and built relatively safely. The big variable for the client is has their experience with the team always engaging? Does the owner like them and are they honest? Do they take care of the right things? When owners are asking those questions, they want to know that the general contractor and their partners have the same commitment to the owner's best interest."
Finding Committed Partners
"The partners you choose on a pursuit need to be as committed as you are because there's nothing worse than spending a lot of time and energy with the pre-positioning effort and intelligence gathering with a partner that's only along for the ride. So, if you're going to have a partner, pick a partner that you know is going to be stride by stride with you, and they're going to contribute their fair share. Ideally have a story that you can tell having worked together in the past. Instead of a "shot-gun" marriage partnership that was put together a week prior to pursuing the job. The owner's going to get a much different level of confidence out of those two different scenarios."
Finding New Partners
"When the owner or community is placing such a high value on repeat working relationships, it's very hard to diversify and bring in new people because oftentimes that prevents you from winning the job. So we did find ourselves locked in or in ruts with the same firms and that's dangerous in the marketplace because then everybody else is going to dismiss you. The market automatically assumes you are just going to partner with that one company, you in the work acquisition, that needs to be part of your strategy. How do you win work, but also do it in a way long run that you're constantly diversifying your portfolio? Oftentimes you may have to make the hard decision to go after a project, stretch your resources to go after one additional project that has some strategic importance to it in order to have a new partner involved in starting that new story. You do have to pay attention to how you're selecting projects and how you're growing your partnership network. Select projects might also open the door for new relationships that you can then build on afterward. Because if you invest in those strategic partnerships with strategic projects, you now have a working history that you did not have before. It has to be very intentional and you have to look pretty far down the road, but it's critical for long-term diversification."
Summary
In the AEC competitive landscape, it's important to be strategic in partnering for pursuits. It is also critical to consider the long-term impacts of the firms we team with on our pursuits. By partnering early (when the contract has specific requirements), keeping the client top of mind while partnering, finding committed partners, and consistently looking for new opportunities to incorporate new partners, we can continue to offer valuable service offerings to our clients and win more pursuits.