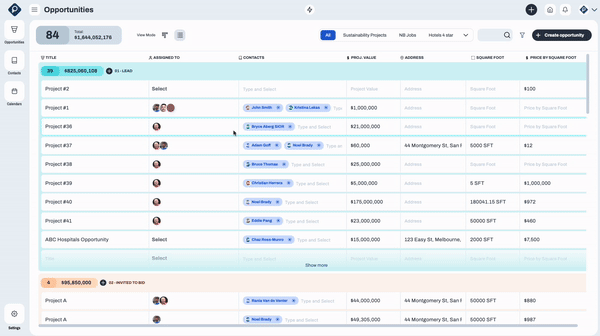 View All of Your Opportunities in An Editable List View
Our Opportunity List View is designed to make managing your opportunities simpler and more efficient than ever before.
Imagine having the ability to edit details of your opportunities directly from the list view, akin to the flexibility and familiarity of using an Excel spreadsheet. With our enhanced list view interface, you no longer have to access the full opportunity card to make essential edits. This efficient inline editing feature saves you time, making your workflow more fluid.

The List View feature also offers all the same features as our Board View - quickly apply and save industry-specific filters, export powerful custom reports, and leverage our AI Assistant to streamline your CRM data management.
Our new Opportunity List View provides an overview of your opportunities and enables you to focus on the details that truly matter. You can easily view and manage essential summary details, all while having the option to delve into the full opportunity for more comprehensive information whenever needed.
You can access the List View by clicking on the List icon from the top left of the screen - right beside "View Mode."