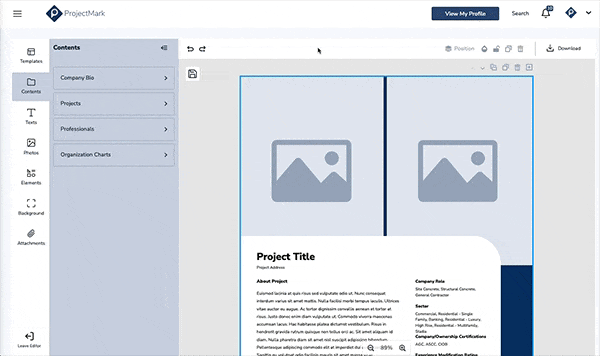 We're committed to producing best-in-class proposals and today we are pleased to announce the release of Design+ Version 2.0.
Revamped Design+
Our customers made some requests and now we are delivering. In addition to the requested enhancements, we have completely revamped our Design+ feature. Our new technology now provides an even smoother silkier experience and will allow us to respond to customer product requests even quicker in the future.
Design+ V2 now allows for faster downloads, smaller file sizes, higher quality pdfs, and much more.
New Rich Text Editor Features
Customers asked for bullet points, numbered points, and tables. Our new rich text editor delivers those features and much more! See below for a complete list of new rich text editing functionality:
Bullet Points

Numbered Points
Text Indentation
Strikethrough
Subscript
Superscript
Clear Formatting Functionality
Ability to Create & Insert Tables
Ability to Embed Link
A full library of emoticons
Org Chart Improvements
A preview of all organizational charts within the Design+ editor is now visible. No need to remember the names or toggle between pages before selecting the organizational chart to add to your proposal.
Collaboration
We have delivered on the first phase of our Collaboration suite of tools. You can make real-time updates to all of your proposals by allowing multiple users to work on the same document at the same time. Check it out and let us know your thoughts. Stay tuned for phase 2 coming soon.
Content Management
Possibly the most substantial improvement to Design+ is our new Folder and Filing Structure. You can now create your own custom folder structure before adding images, templates, attachments, and custom text to any folder.
Our new intuitive system will smartly associate and file, resumes and project case studies with their respective employees and projects. Smartly search for any asset based on keyword.
Smart Portfolio Enhancements
Now, whenever you apply filters, the project thumbnails will auto adjust to ensure there is always 3 full rows of projects visible below your map.
Areas of Expertise Filter on Projects Hub
In addition to the existing project filters, you can now filter your projects by "Areas of Expertise." From your Projects Hub, click on the "more" icon to reveal the Areas of Expertise filter.
Microsite Collaboration Phase 1
Similar to our collaboration tools on Design+, you can make real-time updates to all of your microsites by allowing multiple users to work on the same microsite at the same time.
Integrations Kick-Off
We have kicked off our integrations rollout. Over the course of the coming months, we plan to deploy various integrations to streamline your existing workflows, ensure no double handling of information and provide consistent accurate data across your technologies. First off, we are enhancing our existing Procore integration and plan to deliver CMiC and Salesforce integrations over the coming months.
New Website Refresh
If you haven't noticed, we have recently launched a website refresh!
Check it out
when you have a chance!